How do you create a MACC chart in Excel?
A Marginal Abatement Cost Curve (MACC) is a great tool for planning and prioritising sustainability projects that focus on carbon reduction. Most sustainability professionals use Microsoft Excel to plan and manage their project portfolio, but Excel does not support MACC charts easily.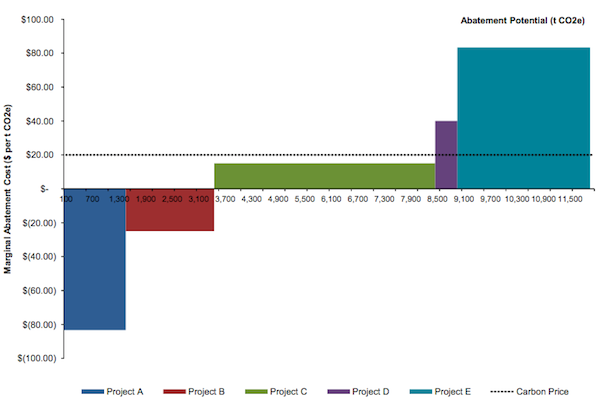 We've created a free YouTube video to show you how to create a MACC chart. We've also developed a simple Excel workbook that you can start using straight away (click to buy for $19).
A MACC chart provides a perfect way to visualise which projects provide the best bang for your buck by clearly showing the marginal cost of abatement for your greenhouse gas reduction projects. The MACC chart allows you to visually compare whether, for example, an LED lighting retrofit and a new roof-top solar array, showing which will reduce the most emissions and at what marginal cost.
Marginal cost is the change in total cost that arises when the quantity produced changes by one unit. In the example above the MACC chart might show that the marginal cost of the LED lighting retrofit might have an abatement potential of 2.7 tonnes (CO2e) per year at marginal cost per tonne of minus $15 (i.e. a net cost saving).
One of the reason MACC charts are so useful is they allow you to sum up your analysis of your project options in one picture so you can easily explain to your senior management group, or other budget approver, which projects you are recommending, and why.
Many organisations will now allocate a recurring budget to projects to improve resource efficiency. In some cases project justifications need to go beyond a MACC chart, which is why we created the Extended MACC app.
---
The Extended MACC app
We are now working on the Extended MACC app. This will be a complete sustainability project portfolio management tool focused on carbon engagement projects.
Like the basic MACC app it will include a flexible MACC chart, but it will also provides a detailed financial assessment including calculation of NPV, IRR, and payback period; a project risk assessment; and, a flexible multi-criteria assessment enabling you to prioritise and evaluate projects based on their other non-financial benefits.
About financial assessments
While there are some fundamentals to assessing the financial viability of any project opportunity &em; like calculating internal rate of return (IRR), net present value (NPV), and payback period &em; carbon abatement projects need to take into account some special issues.
Firstly, there is the issue of a carbon price. Some jurisdictions have implemented an emissions trading scheme or carbon tax, that places a price on carbon and which needs to be taken into account in the financial analysis. But this requires care because, depending on the jurisdiction in which you operate, not all activities will be covered by such a scheme, and the price of carbon will vary over the life of the project.
Even if your organisation doesn't have an explicit carbon liability, you may have made voluntary carbon reduction commitments, and so your carbon abatement projects will provide a financial saving from the avoided cost of carbon offset-credits to take into account.
Secondly, there is the issue of energy prices. For most organisations, most opportunities to reduce greenhouse gas emissions will come from saving energy, either from energy efficiency or renewable energy projects. Energy prices tend to be escalating faster than inflation in most areas, and these abatement projects may hinge on higher future energy prices to meet your organisation's investment criteria.
About multi-criteria assessments
While sustainability is ...
About risk assessments
While sustainability is ...
How much will it cost?
When it is released the Extended MACC app will cost US$149.00 including 12 months e-mail support and software updates. We will announce the Extended MACC app on the MACC Musings newsletter and provide a discount on launch to everyone who has purchased a copy of the original MACC app.
---